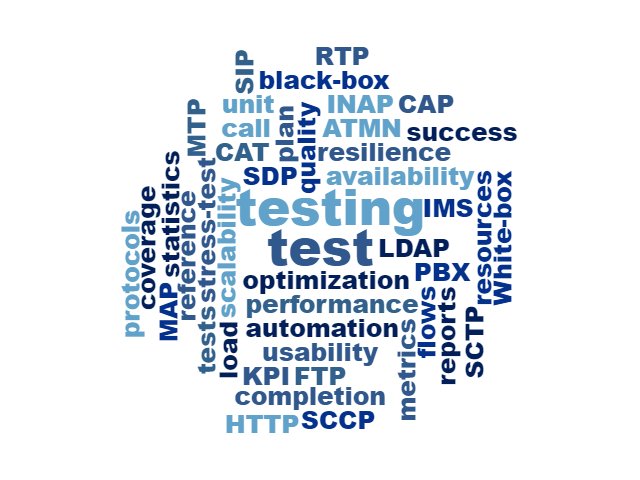 ProIDS offers a wide range of testing and QA services. We specialize in testing of high-throughput real-time communication solutions. Our testing and QA specialists leverage deep knowledge of telecommunication protocols and profound experience with test methodologies (we follow ISTQB and PMI) and hands-on approach to test automation.
We deliver comprehensive test-related documentation, such as: Master Test Plans (including test strategy), Detailed Test Plans, Acceptance Test Manuals, Test Reports and others.
Where applicable we provide a full suite of testing and QA tools together with automated test cases in form of test scripts.
Testing Phases – they depend on system scale and scope but typically include:
Unit testing – white box testing, typically applies when ProIDS develops custom software;
Module testing – black box testing of particular software module functionality;
System testing – testing of subsystems which are part of a solution, or a complete system;
Integration testing – testing of interfaces integration of given solution in the target Customer environment;
Performance testing – testing of application's performance and stability, proves that particular software can handle required load;
Acceptance testing – formal functional acceptance of the solution, which is realized by proceeding according to Acceptance Test Manual;
All testing phases may include several rounds of regression testing, depending on project timeline, scope and solution complexity.
What we test:
Custom-developed software – software developed by ProIDS on-demand;
Third party custom software – we verify software developed by third parties which is intended to be hosted on common unified solutions.
Specific products – COTS software and hardware products, including equipment such as SIP proxies, B2BUAs, SIP media servers, SIP/x gateways, SIP PBX, Diameter Routing Agents and many others.
How we test:
Test coverage – by using various test coverage approaches we ensure that the final solution meets all requirements.
Automation – we emphasize test automation and introduce whenever possible.
Reporting – we follow strict test reporting so that all involved stakeholders have an instant view on testing progress, outcome and improvement areas.
Tools
Depending on scope of a given solution and Customer needs we use various test tools, some of which are listed below. On top we develop our own custom add-ons, utilities and scripts.
Telco testing
OpenCloud Simulator – proprietary tool which is used for OpenCloud-based NGIN solutions.
Telestax jSS7 – open source based tool which is used for testing SS7-based protocols such as CAP and MAP.
SIPP – open source test tool / traffic generator dedicated for the SIP protocol, which uses custom XML scenario files describing complex call flows; it can also generate media (RTP) traffic.
Seagull – open source Multi-protocol traffic generator suitable for testing IMS SIP-based solutions, as well as Diameter and SS7-based CAP or MAP
Titan TTCN-3 – open source toolset based on the TTCN-3 (TESTING AND TEST CONTROL NOTATION VERSION 3) standard, which is used among others for SIP and ASN.1 based protocols.
Web testing
SOAP UI – primarily used for functional testing web services and REST APIs.
JMeter – tool for performance testing of various types of solutions, such as: web applications, databases, LDAP, JMS, etc.
Selenium – browser automation framework for testing web applications.
After long time of being a part of huge multinational corporation in IT industry we detach ourselves and started ProIDS. And we took our skills, experience and customers' trust with us. That's why we like to say we did not come out of nowhere – we came out of shadow. And where are we heading now? Same direction as IT world. And we keep pace with it.
Warsaw Office

ProIDS Sp. z o.o.

ul. Bukowińska 22/53

02-703 Warsaw, Poland

E-mail
info@pro-ids.com